23 year old YouTuber Sterling Grinnell feet on display as he hangs some prints in his bedroom. This gorgeous filmmaker hops on his bed in his bare feet to make sure everything is straight. Look at those soles!! Hit the jump to watch the video!
Sterling Grinnell Feet On The Bed
Sterling finally gets around to hanging the prints from his ongoing photo project. Ironically his project involves taking pictures of his feet in various Instagramable landscape locations.
I've been following this guy for a while and he's had a couple shots of his socked feet but this is the first time we get a good look at his soles. And it was worth the wait! He's got masculine and meaty feet with ruby red soles and perfect little toes. His wide pale insteps make the edge of his footprints a thin line against the sole fo his foot and really emphasize his heel and toes.
Sterling Grinnell's feet are every bit as lickable as I imagined!
He finally gets the prints hung (even if they're a little crooked) and gives us one more shot of that delicious heel as he stops his cat from eating some packaging.
This guy is gorgeous!
Original video here.
GFB Vidcap Gallery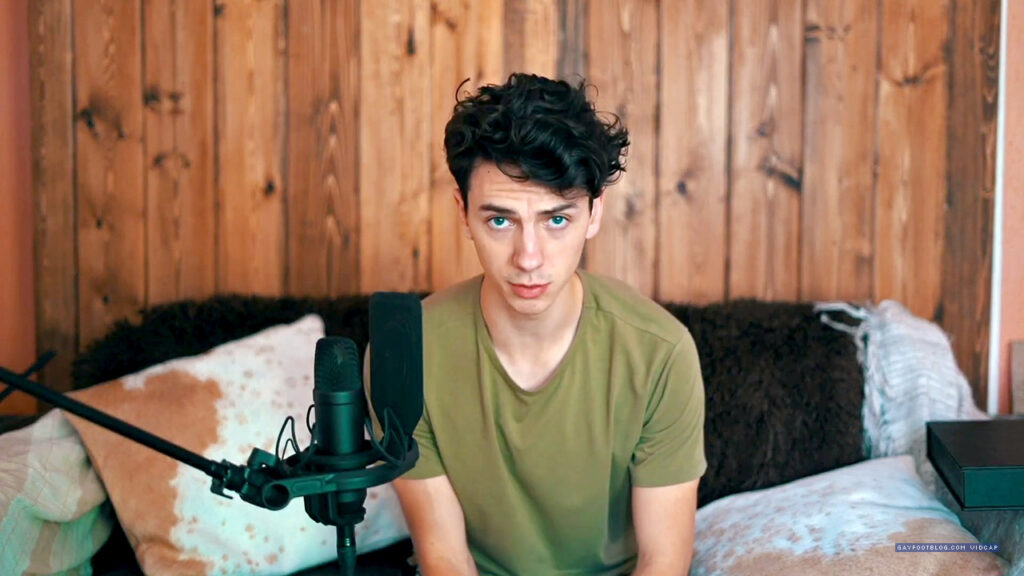 Got A Tip? Send Us A Message!
We're always looking for influencers showing off their beautiful bare feet. If you've spotted your favorite YouTube or TikTok star in bare feet then drop us a line with the link and we'll feature it on GayFootBlog! Can't wait to hear from you!
---
What's your take on Sterling finally showing his bare sole? You love it when straight guys go barefoot at home? Post your ideas in the comments below and keep the conversation going!