Andy Samberg feet on display in the 2020 movie Palm Springs. This SNL funnyman plays Nyles whose life is turned upside down after he meets a girl at a wedding. Andy has amazing feet and there's plenty of sole shots in this one! Hit the jump to check it out!
Andy Samberg Feet In Palm Springs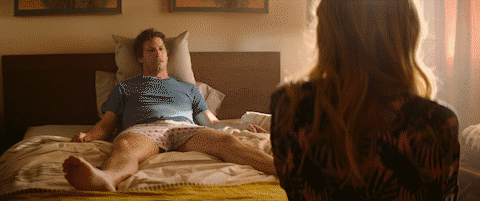 There was a few Andy Samberg feet events during his days at SNL (Saturday Night Live) but that's nothing! He's pretty much barefoot the whole time in the 2020 movie Palm Springs.
The movie opens with Nyles on the bed and you a few shots of his tops and soles while he talks to his girlfriend. And he's in and out of a pool for the rest of the movie. Lots of shots of him floating on pool toys with his wide bare soles on display.
A lot of people have thought that Andy was sexy and now that I've had a good long look at those feet I'd have to agree. This one's a keeper!
GFB Vidcaps Gallery
Celebrity Feet Tip? Send Us A Message!
We're always looking for the hottest male celebrity feet. If you spot your favorite Hollywood star (past or present) showing off their bare feet in movies, TV or social media then drop us a line and we'll feature it on GayFootBlog! Please include the star's name, movie title or tv show (with season and episode) along with the approximate time of the sighting and we'll take care of the rest!
Can't wait to hear from you!
SUBMIT CELEBRITY FEET TIPS HERE!
---
What's your take on Andy Samberg's feet in Palm Springs? Nice enough to worship on the spot? Post your ideas in the comments below and keep the conversation going!