Johnny Depp shows off his big wide feet in Cry-Baby from 1990 when his character Wade Walker is thrown in jail. He has to walk to the holding cell barefoot and his soles are quite dirty by the time he hops on the bed. Just gorgeous! Hit the jump for pics and more!
Johnny Depp Exposes His Bare Feet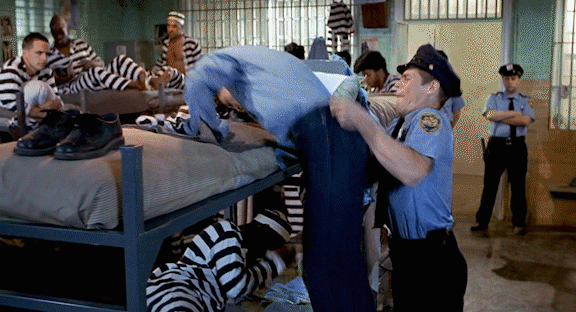 Cry-Baby is written and directed by John Waters and stars Johnny Depp as a 1950s teen rebel "Cry-Baby" Wade Walker who causes upheaval in his hometown when he falls in love with the wrong girl. The film assembles an eccentric and esoteric cast that includes such names as Ricky Lake, Iggy Pop, Traci Lords, Joe Dallesandro, Willem Dafoe, and Patricia Hearst. Classic John Waters!
There aren't a lof of pics of Johnny Depp's feet and it's great to finally see his dusty bare soles. His feet are big and wide. So many wikis say he has size 7 feet but those puppies look to be at least size 12! His dirty footprints look amazing against his pale insteps and his perfectly proportioned toes are a perfect finish to his beautiful feet.
I wouldn't mind being his prison bitch at all!
GFB Vidcap Gallery
Celebrity Feet Tip? Send Us A Message!
We're always looking for the hottest male celebrity feet. If you spot your favorite Hollywood star (past or present) showing off their bare feet in movies, TV or social media then drop us a line and we'll feature it on GayFootBlog! Please include the star's name, movie title or tv show (with season and episode) along with the approximate time of the sighting and we'll take care of the rest!
Can't wait to hear from you!
SUBMIT CELEBRITY FEET TIPS HERE!
---
What's your take on Johnny Depp's feet in Cry-Baby? You love finally seeing his dirty soles? Post your ideas in the comments below and keep the conversation going!