Emile Hirsch bares his beautiful feet in the hit movie, Into The Wild. Emile plays Christoper McCandless who abandoned modern life to live in an abandoned bus in the Alaskan wilderness. This guy's feet are absolutely delicious! Hit the jump for pics and more!
Emile Hirsch Feet From Into The Wild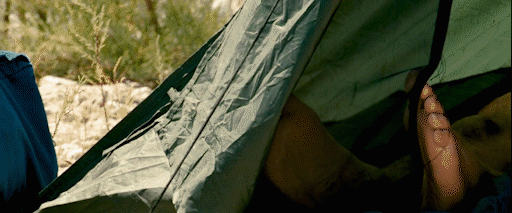 Into the Wild is an adaptation of the 1996 book of the same name. It tells the story of Christopher McCandless (a.k.a Alexander Supertramp), as he hikes across North America and ends up in the Alaskan wilderness. He's uprepared but quite content with living off the land until he eats the wrong berries and dies an agonizing death.
But apart from the rather morose ending (it's based on a true story…) this is an amazing tale of a young man discovering himself through the strangers he meets. I'ts an amazing film and you should definitely check this one out if you haven't seen it already!
But let's talk about Emile Hirsch and his glorious bare feet! His soles have slightly darker footprints that stand out nicely against his pale insteps. His toes are rugged and strong. A perfect match for the rest of his masculine feet! His feet are often quite dirty in the film and you can only imagine how amazing they must smell!
The shot of him drifting in the kayak while he suns his beautiful soles is worth the price of admission alone!
Watch Into The Wild on Amazon Prime Video!
GFB Vidcap Gallery
Celebrity Feet Tip? Send Us A Message!
We're always looking for the hottest male celebrity feet. If you spot your favorite Hollywood star (past or present) showing off their bare feet in movies, TV or social media then drop us a line and we'll feature it on GayFootBlog! Please include the star's name, movie title or tv show (with season and episode) along with the approximate time of the sighting and we'll take care of the rest!
Can't wait to hear from you!
SUBMIT CELEBRITY FEET TIPS HERE!
---