Keegan Joyce shows off his delicious bare feet in Please Like Me S03E09. His character Arnold crawls into bed with his boyfriend after Josh revealed he spent the night with another guy. Gorgeous guy. Gorgeous feet! Hit the jump for more!
Keegan Joyce Shows Off His Beautiful Bare Feet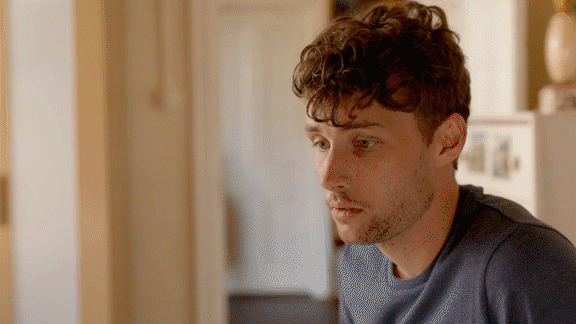 If you've never seen the Netflix series Please Like Me then stop what you're doing and go and watch it immediately. If you've already watched it then watch it again. Had to be said.
Now, on to Keegan Joyce and those glorious feet!
Keegan plays Josh's boyfriend Arnold. His character spends a lot of time in a mental hospital but that doesn't stop Josh from getting closer to him and before you know it Arnold is moved in and part of the family.
He spends a lot of time barefoot in the house and you see glimpses of his feet here and there. But in this episode we get to see a full shot of Keegan's soels and they definitely live up to the hype. This is one of the cutest guys I've seen on any show and his feet are very lickable indeed!
He flashes his slightly dirty bare soles when he climbs under the covers to console Josh who's having a dilemma after spending the night with another guy. They have an open relationship but Josh liked this new guy and it created a lot doubt about Arnold. Arnold tries to solve the problem with a little cuddle and the whole thing is super cute.
I really like this show… It's a little bleak at times but all the characters find a way to pull some joy out of their situation. Just what the doctor ordered!
Check out Keegan in Please Like Me on Netflix!
GFB Vidcap Gallery
Celebrity Feet Tip? Send Us A Message!
We're always looking for the hottest male celebrity feet. If you spot your favorite Hollywood star (past or present) showing off their bare feet in movies, TV or social media then drop us a line and we'll feature it on GayFootBlog! Please include the star's name, movie title or tv show (with season and episode) along with the approximate time of the sighting and we'll take care of the rest!
Can't wait to hear from you!
SUBMIT CELEBRITY FEET TIPS HERE!
---
What's your take on seeing Keegan's slightly dirty bare soles? Are you a fan of the series Please Like Me? Post your ideas in the comments below and keep the conversation going!