Michael Cera Feet from Nick and Nora's Infinite Playlist! Michael shows his wide bare soles and bright orange footprints when leaving a voicemail for his ex girlfriend at the beginning of the movie. Not a lot of shots of this dorky twink's feet but this is definitely a good one! Hit the jump to check out the caps!
Michael Cera Feet – He's Got Beautiful Soles!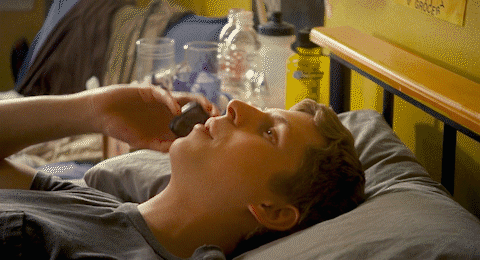 Michael Cera might not be a Hollywood heartthrob but he's the very vision of a dorky twink. And I like it! And this guy's got beautiful feet!
He shows off his lovely bare soles with their bright orange footprints at the beginning of Nick And Nora's Infinite Playlist. The camera holds the shot for a few seconds to give us a nice long look at his lovely bare feet. His toes look amazing as deletes the message he was leaving and tosses the phone on the bed.
You can almost imagine being on your knees at the foot of his bed. Waiting for him to finish and give you permission to worship is big wide soles. Tasting the tangy sweat from between his toes and slobbering all over every inch of those wide bare soles. Um, Er… I digress.
Nick And Nora's Infinite Playlist on IMDB.
GFB Vidcap Gallery
Celebrity Feet Tip? Send Us A Message!
We're always looking for the hottest male celebrity feet. If you spot your favorite Hollywood star (past or present) showing off their bare feet in movies, TV or social media then drop us a line and we'll feature it on GayFootBlog! Please include the star's name, movie title or tv show (with season and episode) along with the approximate time of the sighting and we'll take care of the rest!
Can't wait to hear from you!
SUBMIT CELEBRITY FEET TIPS HERE!
---
What's your take on Michael Cera's bare soles? You like this nerdy twink enough to lick between those toes? Post your ideas in the comments below and keep the conversation going!