Ashton Kutcher feet on display on That 70's Show season 5 episode 1. Kutcher's character Kelso is sitting on the beach with Donna and she tries to talk him out of his relationship with some blonde bimbo he met. He kicks up his feet and rubs his sandy soles together and his bare feet are glorious. Hit the jump to check out the caps!
Ashton Kutcher Feet On The Beach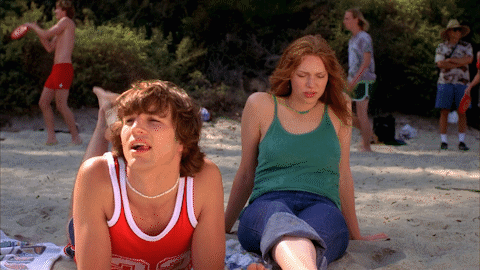 Ashton Kutcher's feet are legendary but he doesn't show them that often. Guys love his smooth wide soles and big square heels. And check out cap #4 (below) for a peek at his famous webbed toes. One of the hottest guys in Hollywood has some damn beautiful feet!
We get a beautiful look at Ashton's gorgeous soles while Kelso is talking to Donna on the beach then we get another look when he tackles Donna when Eric shows up. On final look at his masculine heels towards the end of the episode.
This one is heaven for any Ashton Kutcher feet fan!
GFB Vidcaps Gallery
Click images to enlarge!
That 70's Show Season 5 Episode 1
Eric sleeps till noon and then concentrates on his bowel movements, till Kitty reports Donna has phoned. In California Donna bitchily tries to ruin Kelso's relationship with dumb blonde Malibu surfer girl Annette by nagging about Jackie. Eric's parents forbid him to go, but Hyde bought a ticket from his secretly stashed-away money and promises to cover for him, but actually hooks up with Jackie, who later rats on him. Once reunited, the love-birds, wanting to go straight back home, commandeer poor Kelso and his van, but Annette wouldn't put out anyway.
That 70's Show S05E01 on IMDB.
Celebrity Feet Tip? Send Us A Message!
We're always looking for the hottest male celebrity feet. If you spot your favorite Hollywood star (past or present) showing off their bare feet in movies or TV then drop us a line and we'll feature it on GayFootBlog! Please include the star's name, movie title or tv show (with season and episode) along with the approximate time of the sighting and we'll feature it on GayFootBlog!
Can't wait to hear from you!
SUBMIT CELEBRITY FEET TIPS HERE!
---
What's your take on our Ashton Kutcher Feet post? Would you like to see more posts like this? Or would you prefer more porn in your wank material? Post your ideas in the comments below and keep the conversation going!