Ashton Kutcher feet spotted in his 2003 movie, Just Married! Beautiful shots of his soles and toes when Ashton's character Tom sneaks into Sarah's bedroom for a late night rendezvous. It's a horrible movie, but seeing Ashton's feet saved it for me! Hit the jump to check out the vidcaps!
I'm Addicted To Ashton Kutcher Feet!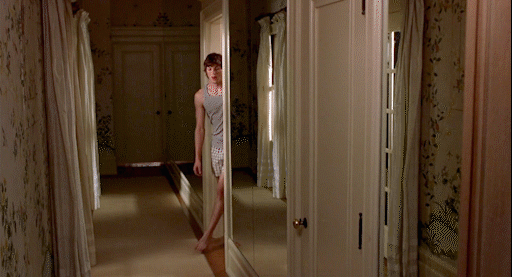 Ashton Kutcher was in his prime for the 2003 movie Just Married. And it's a terrible movie. But fortunately for us there's plenty of shots of Ashton Kutcher feet to salvage the thing!
Ashton plays Tom who marries Sarah in spite of her wealthy family's objections. Early in the movie Tom sneaks into Sarah's room and we get some amazing shots of Ashton Kutcher's soles!
He's got lovely big feet with beautiful smooth soles and bright red footprints. He notoriously has partially webbed 2nd and 3rd toes which he used to talk about and even showed them during a couple interviews back in the day! Ashton looks as cute as can be during this movie so all bad acting is forgiven. Just keep giving me more shots of those studly feet, will ya?!
Definitely check this one out if you're an Ashton fan!
More shots of Ashton's Feet on GFB!
Celebrity Feet Tip? Send Us A Message!
We're always looking for the hottest male celebrity feet. If you spot your favorite Hollywood star (past or present) showing off their bare feet in movies, TV or social media then drop us a line and we'll feature it on GayFootBlog! Please include the star's name, movie title or tv show (with season and episode) along with the approximate time of the sighting and we'll take care of the rest!
Can't wait to hear from you!
SUBMIT CELEBRITY FEET TIPS HERE!
---
What's your take on seeing Ashton Kutcher feet in Just Married? Are you a fan of his big smooth soles? Post your ideas in the comments below and keep the conversation going!