Sam Vartholomeos feet on display in Bridge And Tunnel Season 1 Episode 1. Sam's character Jimmy was out partying the night before and gets woke up early by his father who needs him to get his ass in gear. Bla bla bla. Just give me more of those beautiful masculine bare feet! Hit the jump for more pics!
Sam Vartholomeos Feet Are Gorgeous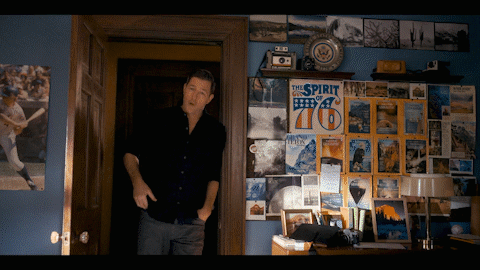 Sam's character Jimmy is an aspiring photographer who dreams of working for National Geographic one day. His dad tries to keep Jimmy on track by waking him up at the crack of dawn after he's been out partying. Jimmy rolls over and his masculine bare soles are on display as he tries to reason with his dad.
The rest of the show was pretty meh but holy crap, Sam's got beautiful feet! They're wide and meaty with beautiful pink foot prints and pale insteps. You could make a meal out of those puppies! Just delicious.
You might recognize Same Vartholomeos from his other role on Star Trek Discovery where he played Danby O'Connor. He keeps his shoes on in that one though. So, really? Who cares? LOL!
GFB Vidcaps Gallery
Bridge And Tunnel Season 1 Episode 1
This dramedy series set in 1980 revolves around a group of recent college grads setting out to pursue their dreams in Manhattan while still clinging to the familiarity of their working-class Long Island home town.
In Episode 1, Jimmy falls back into the arms of his ex-girlfriend Jill, much to the concern of his friends and parents who worry restarting this relationship may derail his future plans as a nature photographer.
Celebrity Feet Tip? Send Us A Message!
We're always looking for the hottest male celebrity feet. If you spot your favorite Hollywood star (past or present) showing off their bare feet in movies, TV or social media then drop us a line and we'll feature it on GayFootBlog! Please include the star's name, movie title or tv show (with season and episode) along with the approximate time of the sighting and we'll take care of the rest!
Can't wait to hear from you!
SUBMIT CELEBRITY FEET TIPS HERE!
---
What's your take on Jimmy's feet in Brige And Tunnel? Would you be all over those soles? Post your ideas in the comments below and keep the conversation going!