Simon Pegg feet on display in Shaun of the Dead! Simon's character Shaun stumbles into the living room in the morning and props his slightly dirty bare soles on the coffee table while he plays video games with his roommate. Hit the jump for all the pics!
Simon Pegg Feet – Dirty Soles On The Table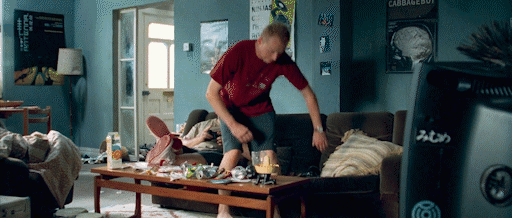 I remember going to see Shaun of the Dead because it looked hilarious. And I was shocked when Simon Pegg's character Shaun walked out and propped his slightly dirty bare soles on the table! Dude has beautiful feet!
From his little pinky toes that curve in the cutest possilbe way to his beautiful slightly dirty footprints. There's a lot to love here!
Simon plays video games for a couple seconds before he remembers he has to go to work so we don't get to see a whole lot of his beautiful bare feet. But we're treated to a shot of his slightly dirty white socks at the end of the movie. Nice!
Shaun of the Dead is still a great movie on top of this male celebrity feet sighting. Be sure and check it out!
Shaun of the Dead on Wikipedia.
GFB Vidcap Gallery
Celebrity Feet Tip? Send Us A Message!
We're always looking for the hottest male celebrity feet. If you spot your favorite Hollywood star (past or present) showing off their bare feet in movies, TV or social media then drop us a line and we'll feature it on GayFootBlog! Please include the star's name, movie title or tv show (with season and episode) along with the approximate time of the sighting and we'll take care of the rest!
Can't wait to hear from you!
SUBMIT CELEBRITY FEET TIPS HERE!
---
What's your take on this Simon Pegg feet sighting? You loving his slightly dirty bare soles? Post your ideas in the comments below and keep the conversation going!